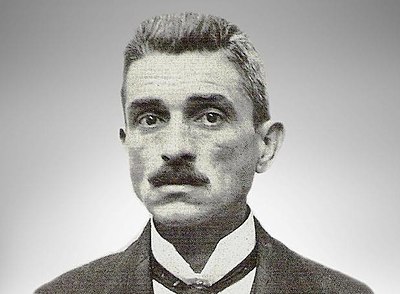 Author: Theotokis, Stephanos-Konstantinos Theotokis
Date of Birth: May 13th, 1872, Corfu, Corfu Island
Gender: Male
Biography: Konstantinos Theotokis was born in Corfu town in Corfu Island. He received general education in schools in Corfu and from an early age he showed great interest in natural sciences.
In 1887, he published a study on electrochemical telegraph, and sent a paper on piloted balloon to the French Academy of Science that received plaudits. In 1889, he travelled for higher studies to Paris, and attended courses in the School of Physics and Mathematics at Sorbonne, but without receiving any diploma. In 1890, he was in Venice, where he met his future wife. After returning from Venice, he settled down in Corfu; there he met Lorentzos Mavilis with whom he became a close friend; later on, they both participated in the Crete Revolt and in the war of 1897. In 1895, he published a romance in French and in 1899 he published in series Pathos and Pistoma in the journal Techni of Konstantinos Hatzopoulos. In 1901, he published in Dionysos the short-story Juventus Mundi and the following year Kassopi. In 1902, he visited Zakynthos on the occasion of the 100th anniversary from the birthday of Dionysios Solomos and on the same year he published an article on Solomos in the newspaper Neue Presse of Vienna. In 1904, he published in Nouma his dissertation Sanskrit and katharevousa.
As a member of the "Fellowship of the Nine" he organized a conference of the demotic supporters in Corfu; Alexandros Pallis was among the participants (1905). At the same time, he translated ancient Greek writers and from Sanskrit Veda and excerpts of Hindu literature epics. He also published his translations and his first prose writings in the journals of that time (I techni 1898-1916, O Dionysos 1901-1902, O Noumas 1904-1916). Theotokis travelled to study in Europe again; he attended as a non-degree student courses for four semesters at the university of Munich (1907- 1909). In Munich, he met with Konstantinos Hatzopoulos. Theotokis was already familiar with the works of Karl Marx, and his thinking already adopted a new direction. When he returned to Greece, Theotokis participated in establishing the "Socialist club" and the "Solidarity labor association of Corfu" (1910-1914), while at the same time he was an ardent supporter of the movement for women emancipation. His ideological orientation at that time will be depicted directly on his literary work. This time is the most productive and active period of K. Theotokis. Theotokis mainly worked on prose. He started by writing short stories (mainly during 1898-1910) influenced by German idealism and the thought of Nietzsche and mythological, medieval and other themes, all remote in relation to his contemporary reality.
Soon, he changed orientation and followed a development course from psychographic ethnography and aesthetic writing to social realism (socialism effects) and naturalism. I timi kai to chrima (1914), Katadikos (1919), I zoi kai o thanatos tou Karavella (1920), Oi sklavoi sta desma tous (1922) were milestones in his new course and with these works Theotokis turn the spotlight on the social dimension of the problems of Greek society. Theotokis also wrote thirty two sonnets mainly of erotic themes. His literary studies are also worth noting, as well as his excellent sophisticated translations of important works of older and contemporary world literature (translations from Sanskrit and Latin & translations of poetry by Shakespeare, Goethe, Flaubert, and others). His early death after a chronic disease deprived modern Greek letters of a high conscience and an important writer.
---
---
Selected literature
---
Chronology of Konstantinos Theotokis
| | |
| --- | --- |
| 1872 | Konstantinos Theotokis was born in Karousades village in Corfu Island |
| 1884 | Publication of the newspaper Elpis in collaboration with his brother Konstantinos (at the age of 14). |
| 1887 | Publication of the Study on the electrochemical telegraph and sending a study on the governing balloon at the French Academy of Sciences, which earned praise |
| 1889 | He enrolled at the University of Sorbonne to study physics and mathematical sciences. |
| 1890 | Continuation of studies in Venice, acquaintance with Baroness Ernestin von Malovic (17 years older than him). |
| 1893 | Marriage with Βaroness and installation in the family tower in Karousades, Corfu. |
| 1896 | He took part voluntarily in the Cretan Revolution and in the Greek-Turkish war of 1897, in Thessaly. |
| 1899 | Post "Passion" and "Pistomma" in the "Art" magazine of Konstantinos Hatzopoulos. |
| 1901 | He publishes "Juventus Mundi" in "Dionysos" and then "Kassopi". |
| 1902 | Visit to Zakynthos on the occasion of the centenary of the birth of Dionysios Solomos. Post the same year article about poet Solomos in the Neue Presse newspaper in Vienna. |
| 1904 | Publish in Nouma his Sanskrit and Kathareuousa thesis. |
| 1905 | Organization of a demotic conference in Corfu on the occasion of the visit of Alexandros Palli. The guests, Kostis Palamas, Giannis Psycharis and Ioannis Gryparis did not attend. |
| 1907 | He was at the University of Munich for studies. |
| 1909 | Return to Corfu, meeting with the socialist Mazarakis. He was a founding member of the Socialist Group of Corfu and then of the Hellenic Workers' Union of Corfu. |
| 1916 | He joined the Venizelist movement of Thessaloniki, where he remained a little while, undertaking various missions. |
| 1918 | With the defeat of Austro-Hungarian Empire in the First World War and the financial collapse of his wife's family, he settled in Athens, where he was appointed editor in the publisher Eleftheroudakis. |
| 1919-1922 | He was appointed Secretary of the National Library, but with a very low salary. |
| 1922 | In 1922, as a patient suffering from cancer, he was operated in "Evangelismos" and immediately departed for Corfu. |
| 1923 | He died in Corfu in 1923 leaving his latest work, Pope Jordan Pasicharos and his parish incomplete. |
---
Poems