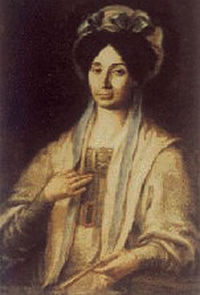 Author: Elizabeth Moutzan-Martinegou
Date of Birth: 1801, Zakynthos Island
Gender: Female
Biography: Zakynthian writer Elizabeth Moutzan-Martinegou is the first remarkable example of female writing in the Modern Greek Literature. Martinegou was born in October 1801 and died in November 1832. Her parents, Fragkiskos Moutzan and Angeliki Sigouros, came from two of the oldest aristocratic families of Zakynthos.
Moutzan had interest in learning and writing, and although her education was limited, with personal study she gained knowledge of ancient Greek, Italian and French. At the same time, she was involved in the writing of poems, theatrical works in Greek and in Italian and translations from the ancient Greek Literature. Her desire was not to marry, but to dedicate herself to studying and writing. Because of the objections of her family, she suggested that she be locked up in a monastery or retire to a family home in the countryside. However, her wishes were not accepted by her family. Faced with the prospect of remaining unmarried and locked up in her father's home, she decided to leave the island secretly but after a failed attempt she returned to her home without a family member to notice her absence. Eventually she had to retreat and accept the desire of her family to marry. There was a candidate husband, Nicholaos Martinegos, who delayed the formalization of the marriage agreement with constant negotiations on the height of the dowry. Eventually, the marriage took place after 16 months in the summer of 1831. Elisabeth Moutzan-Martinegou died on November 9, 1832, two weeks after the birth of her son due to complications in childbirth.
Ergographia
Her most famous work is Autobiography (My story). Apart from Autobiography, Martinegou wrote more than 15 theatrical plays in Greek and Italian, translated ancient texts and composed poems. From her other works, little has been saved, a comedy titled Philargyros, some Italian texts, 20 letters, the preface of a treatise on Economics, poems "Ode to the Passion of Jesus Christ", and "To Theotokon", and extracts from Prometheus Bound , the Odyssey and the Iketides. Unfortunately, she did not see any of her works published. Many years after her death, almost half a century, her son published her Autobiography with several cuts.
Selected literature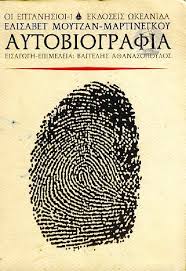 The text of Moutzan acquires a special interest in the depiction of certain aspects of the social organization of the time that was written because his author is in a privileged position since one part belongs to the established order but to the other part – because of her sex – is on the edge of this class […] In this way, its text as a description of the social oppression of women, which is valuable for the history of this problem, which has played a decisive role in the cultural and political history of man, belongs to the history of Greek feminist thinking, representing a liberal its version. This liberal feminism came from that faculty of political thought we call "liberalism", which maintains an understanding of the human nature that places our uniqueness as individuals in our reasonable ability.
Vangelis Athanasopoulos, "Introduction". Elizabeth Moutzan Martinego, Autobiography, introductory. Vangelis Athanasopoulos, Oceanida, Athens 1997, 49-50.
Πάλαιψε μονάχη, του Κ. Πορφύρη*
"I have always felt something like an obligation towards this forgotten woman, to remind her of the Greek readership. It gave me the impression of a man who wanted to talk and his mouth dangled. As long as he lived, he longed to see what he wrote. But she died at age 31, not seeing her dream come true. And her manuscripts were captured after her fifty-year-old death. In 1881 her son, poet Elisabeth Martinegos, published her autobiography only. But she too torn. It was such a season that no one noticed. And Elizabeth fell back into oblivion. Another 66 years have passed. In 1947, Zakynthian scholar Dicos Konomos wrote in his magazine "Ephthansian Leaves" how he found her handwriting and gave the promise "to God and to the memory of Elisabeth" as he said, to publish them. But the earthquakes came, and the fire of 1953 and Zakynthos became ashes. The Martinegou manuscripts were also ashes, some 30 pieces, which was kept by Konomos at his home … I decided to borrow the money I needed and to publish myself this book myself. I do not want to profit … ".
* Extract from his introduction to the edition of "Autobiography" he edited in 1956 (Digenis editions).