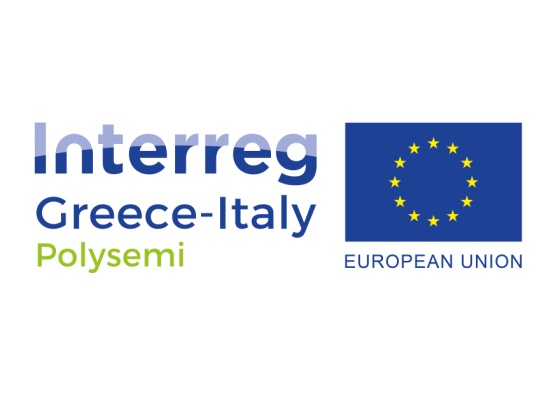 HELLENIC REPUBLIC
MINISTRY OF CULTURE AND SPORTS
General Directorate of Contemporary Culture
INTERREG V-A Greece Italy Programme 2014-2020
Action POLYSEMI Park of literary travels in Greece and Magna Graecia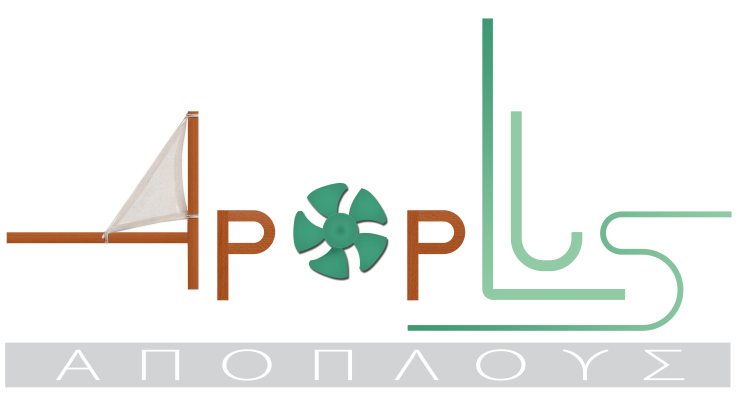 APOPLUS
Invisible Cities and Greek City Ports of the Ionian:
visual art dialogues between Greek litterateurs and Calvino
Alevrapothikes, Old Fortress of Corfu Island, 21 June – 07 July 2019
In the Flotilla fresco, the oldest known representation of a port found in ancient Thera excavation site, the eastern part is called Apoplus (sailing). The exhibition focuses on the exploration of this polysemic concept, creating a multifarious environment that refer to the port as an intermediate space, a threshold between the city and the sea. Metaphorically, port, city and sea will become the symbols for action, the inner world of man and the journey of life. The complex structure of the exhibition creates semantic frameworks, which the visitor is called upon to desymbolize in the experience of his wandering.
An important inspiration for the design of the exhibition was the text Invisible Cities of the Italian litterateur Italo Calvino, an exemplary presentation of the multifarious nature of the city-port. The text brings in a common narrative a variety of city descriptions that eventually appear to form the multiple facades of one and single city, Venice. In addition, through the dialogues and descriptions of the cities in the text, one can discover various other dynamic interactions, such as the dialogue between two cultures, let's say Greek and Italian, or the interaction of text and image. The Invisible Cities are fantastic. Through the exhibition they are invited to interact with the 'visible', real cities of the Ionian Sea as described in the work of Greek Ionian litterateurs, such as Kalvos, Solomos, Karyotakis, Hearn, Sikelianos, Martinengou, Polydouri, as well as with cities of Magna Grecia in Italy, through the corresponding 'Griko' musical tradition.
The design of the exhibition is inspired by Alevrapothikes, a building of cultural importance in the Old Fortress of Corfu, and aims to create thereby an atmospheric audiovisual environment, highlighting its unique aesthetic quality that combines elements, such as the stone architecture, the patina of time, the location in the trench. Alevrapothikes spaces, both indoor and outdoor, will be carriers of meanings, protagonists that embody roles and implement the narrative context of Apoplus. The perception of city–port will be formed through the interaction of images and sounds. The visitor of the exhibition will wander around and re-create fragments, forming multiple and flowing versions of Apoplus from the intertwinement of actions, experiences, narratives.
The curator of the exhibition Dr. Efrossyni Tsakiri
In the exhibition participate the visual artists:
I. ANGELI, Y. ADAMAKIS, A. VATHIS, O. VENETZIANOU, S. VERYKIOS, E. EFTHIMIADIS, D. EFTHIMIOU, K. ZACHARIOU, A. KALAKALLAS, G. KALAKALLAS, C. KATSADIOTIS, N. KLIRONOMOS, A. KOUZOUPI, N. KOURNIATIS, L. KOUTELIERI, N. KRANAKIS, D. KOSTAS, L. LEVENTI, E. MANDOULIDOU, D. MERMIGKI, D. MILIOTIS, F. MOUZAKITOU, S. PANAGIOTOPOULOS, P. PANOS, M. PAPADIMITRIOU, V. RINAS, D. SEVASTAKIS, A SITORENGO, S. SOUVATZOGLOU, A. Z. SOULIOTOU, E. TSAKIRI, V. CHRISTOULI, D. TSIANTZIS, C. CORRADI BRANNIGAN, F. A. GUSCO, P. HAIGH, S. NOVA, K. PUENTE FRANTZEN, D. VIOLI
and the music composer P. PERISTERIS
In the attempt to combine science, research and experimentation with well-established forms of art, the exhibition hosts young artists, students of NTUA, TUC, UNIWA, IONIAN as well as Fine Arts Schools of Italy:
Aggeletopoulou K., Akrioti Α., Ananatidi X., Amorgianou Κ., Avgoustidis D., Vougas P., Georganta Ε., Gialiadaki G., Golemi K., Gougoudi D., Damianakou A., Drimaki M., Eleftheraki G., Zaxariaki A., Zeimpeki Α., Kada D., Κexra Κ., Kyriakopoulou I., Kostelletou S., Kostopoulou Ε.Μ., Kotoula I., Liakopoulos Ο., Lianopoulos Cr., Loupa A., Magripi C., Mantzouneas E., Maragkou D., Mixail E., Mixailidis G., Mountaki D., Baris A., Barbouni M., Beleri D., Bilia T., Bibikou Α., Xydea Β., Oikonomou V., Orfanoudakis A., Ouzounis G., Ouzounidi K., Pagania N., Panagopoulou Α., Papadopoulou C., Papazoglou M., Papakostopoulos Κ., Papachristou Έ., Papachristofilou N., Patabali Α., Pitta E., Rachiotis Ο., Reppa E., Retsa A., ., Salalidou A., Sigala N., Simaresi E., Siskaki E. Sofaditi Β., Sfakianaki D., Tagkli K., Tzavara E., Tokatlidis Ch., Trachidi Ν., Tsikoukou A., Ydraios Ν., Fakidis S., Fremenditi A., Fysentzidi D., Fytas G., Charalampous G., Chatzitriantafyllou Ch., Chatzidakis G., Chelidonis M., Chousinas Μ., Christodoulou A, Ayats Andres L., Belerie D., Bandimarte A., Cherchi F., Lidan H.
In the creation and scientific documentation of young artist artworks contributed the academics:
S. Avgerinou – Kolonia, Architect, Dr. Emeritus Professor, School of Architecture, NTUA
A. Vasilara, Architect, Dr. Laboratory Teaching Staff, School of Architecture, NTUA & Secretary of Syros Institute
S. Yiannoudes, Architect, Dr. Assistant Professor, School of Architecture, TUC
A. Kalakallas, Visual Artist, Dr. Laboratory Teaching Staff, School of Architecture, NTUA
M. Konomis, Scenographer, Dr. Contract Lecturer, HOU & OUC
N. Kourniatis, Architect, Dr., Assistant Professor, Dept. of Civil Engineering, UniWA
M. Markou, Architect, Dr., Assistant Professor, School of Architecture, NTUA
Ph. Mylonas, Electrical and Computer Engineer, Associate Professor, Dept. of Informatics, Ionian University
Ph. Peristeris, Music Composer, Dr. in Philosophy, NTUA
H. Haniotou, Architect, Dr. Professor, School of Architecture, NTUA, Director of the Urban Design Laboratory.
COORDINATION AND ORGANIZATION
Marios Kostakis, Director of the General Directorate of Contemporary Culture
Anna Kalafataki, Director of the Dept. Theater and Dance, Directorate of Performing Arts and Cinema
Helene Andreou, Department of European Programs, International Cooperation and Promotion of Enterpreneurship, Directorate for the Development of Modern Creation
IMPLEMENTATION TEAM FOR THE POLYSEMI ACTION
Tsiliberdi Niki–Monika, Director of the Directorate for the Development of Modern Creation as team coordinator
Andreou Helene, Kalafataki Anna, Makkas Spiridonas, Toubanaki Helene, Andreou Ioannis, Tzivakis Vasileios, Koutroulias Kyriakos
CREATIVE EXHIBITION TEAM
Apoplus concept: A. Kalafataki, E. Tsakiri
Curating –design, implementation, scientific documentation: Efrossyni Tsakiri, Dr. Architect NTUA, member of the Urban Design Laboratory, School of Architecture NTUA, Adjunct Lecturer of the Department of Interior Architecture, UniWA
Texts, translation in English and design of exhibition panels, booklet, catalogue: E. Tsakiri
Logo "Apoplus": S. Rizopoulou, E. Tsakiri
Graphic design: E. Tsakiri in cooperation with the team of Technogramma Med Publications, H. Vrachati, H. Tsoukala
SCIENTIFIC SUPPORT
Laboratory of Urban Design, School of Architecture, NTUA
VISUAL ART WORKSHOPS
Organization – coordination: E. Tsakiri
Implementation: Anastasia Zoi Souliotou, Dr. visual artist, theatrologist, pedagog
DISSEMINATION OF INFORMATION – POLYSEMI WEBSITE SUPPORT
Ionian University – coordination: Phivos Mylonas, Associate Professor, Department of Informatics
WEB-SITE: https://polysemi.di.ionio.gr/index.php/blog/events/apoplus
E-MAIL: apoplus2019@gmail.com
VISUALS: