BARI, CORFU: Pontikonisi, Benitses, ITHACA:Vathy, Anogi
Itinerary – The routes to Arcadia
This itinerary suggests a journey across Puglia and Ionian Greece following in the footsteps of Lalla Romano and Emilio Cecchi. The title is derived from Cecchi's travel journal Et in Arcadia ego and Vincenzo Consolo's essay on Lalla Romano Et in Arcadia Lalla.
In Spring 1934 Cecchi had traveled with his son across the Ionian Islands and the Peloponnese, reaching Crete. That experience gave birth to a book published in 1936, whose single chapters had already been published as reportage articles.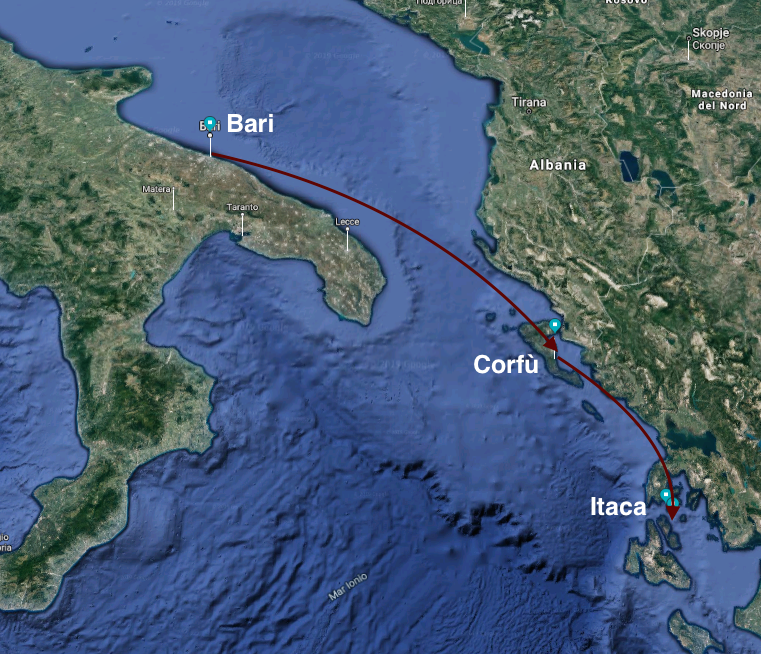 Greece as perceived by Cecchi is a land where mythological past and present coexist. The author captures its features through his writing, in which the poetic and elegiac tone that connotes the description of landscapes and monuments sometimes becomes ironic and derisive when he portrays the 'ugly' neo-Hellenic style or modern building, which had already started to corrupt Greek towns, firstly Athens. Arcadia, recalled in the title of his book, becomes the symbolic destination where we may retrace not only the universal features of Greek culture, but also ourselves. Similarly, Lalla Romano in her Diario di Grecia – the account of a short eight-day trip with her husband, made at Easter in 1957 (first published in 1960 and, in a longer version, in 1974) describes literary and mythological Greece enlivened by her own childhood memories and by the continuing quest for truth, hence the trip «si concretizza così in un'esperienza di attualizzazione di un mito lontano» (G. Dell'Aquila, L'Adriatico di Lalla Romano) becoming as universal as intimate.
Emilio Cecchi and Lalla Romano will thus become the literary guides of this itinerary, inviting us to experience this journey as a quest for our personal corner of Arcadia.
The itinerary starts with Lalla Romano on a train that led her from Milan to Brindisi, where she sailed for Greece aboard a ship called Angelika.
The traveler who goes through Puglia by train today may enjoy the writer's landscape descriptions and imagine being in an old wagon, which certainly lacks the comforts now offered by high-speed trains, but have a particular fascination that Lalla Romano expresses in the following words:
Il treno è foderato internamente in cuoio scuro, impresso a disegni floreali.
È di prima della guerra, – dice Stefano.
Prima dell'altra guerra! Quando c'era quell'eleganza ambigua (ma forse ogni eleganza lo è) che ha intravveduto nella nebbia dell'infanzia chi è nato prima del '14.
Il nostro scompartimento è angusto, ammobiliato, vestito; tempestato di borchie, ganci, rampini lucidi di ottone. Anche la scaletta mobile, ridicolmente piccola, è interamente rivestita di panno blu a disegni.
[…] Accanto al lavabo c'è una saponetta verde piccolissima.
Continuo la perlustrazione. Apro lo sportellino in basso, e ne estraggo la coppa di maiolica. Ha un lunghissimo labbro, un lunghissimo manico: sembra uno strano animale o fiore esotico.
La rinfilo, e sale dal basso il vento e il rombo delle rotaie. La custodia in cui la coppa si incastra ha la sua forma precisa ed è rivestita di panno come gli astucci dei gioielli. (L. Romano, Diario di Grecia)
What remains unchanged on a train journey along the Apulian coast, either on an early 20th-century train or a state-of-the-art one, is the beauty of landscapes that rapidly alternate as seen from the windows: a series of sudden visions, from Gargano to Bari, that Lalla Romano captures and returns as quick sketches, outlined through the region colors rather than in words.
She writes:
Ogni campagna intravveduta all'alba dal buio e dal chiuso di un treno è una apparizione di purezza: esangue, fredda. Ma l'alba del Sud è calda, più che non sia nei nostri paesi l'aurora. Una dolcezza d'Oriente è in quell'aria, d'oro verde sono le foglie nuove della vite e del fico.
È la Puglia. Il monte Gargano già si allontana, di un azzurro poco più intenso del cielo. Si distingue ancora il profilo da cittadella crociata di Monte Sant'Angelo e la falcatura luminosa, celeste, del golfo di Manfredonia.
Trani. Cerco con gli occhi, riesco a vedere – alta, bianca – una fronte del Duomo, volta a guardare lontano sul mare.
Il treno si è fermato. La nettezza marina è nell'aria tra le case bianche. […]
In Puglia vedo i primi papaveri. Radi frammezzo ad altri fiori selvatici, di un rosso più intenso dei nostri; non solo di quelli chiari di montagna, anche di quelli emiliani, accesi, che ho visto infuocare intere distese di campi. Questi hanno un colore prezioso: non sensuale, mistico.
Le strade tra i campi, profilate dai muretti a secco di pietre tonde, bianche, sono polverose: strade buone a percorrersi a piedi scalzi o a dorso di mulo, al massimo in biroccio.
Nel mezzo di un campo, ogni tanto, una costruzione conica di pietra, un rozzo trullo non imbiancato: embrionale cupola, affine alle antiche tombe o tesori. (L. Romano, Diario di Grecia)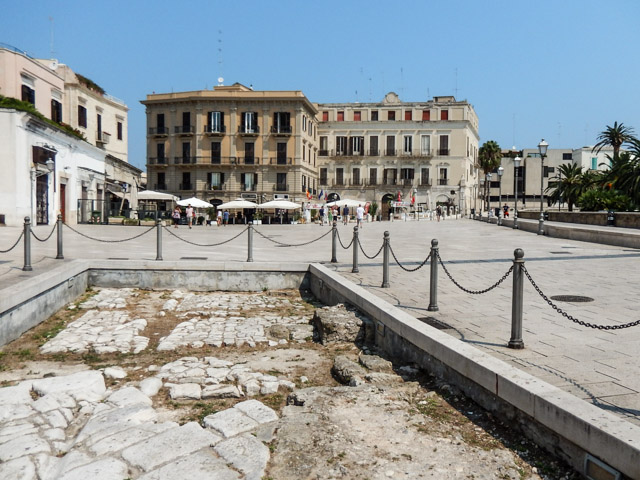 Bari Vecchia, Piazza Ferrarese
Along with the writer, we may get off the train in Bari and enjoy the first stop of our journey.
Just outside the station, the town reveals itself in its modern and 19th-century appearance, that of the Murat district, an organized series of wide bourgeois streets and elegant boulevards that form a geometric grid which is totally different from and almost juxtaposed to the confused Mediterranean pattern made up of alleys and passageways that connote the old town. It is here that we are quickly heading, together with Lalla Romano, leaving the modern town behind: "troppo occidentale, «milanese», per la nostra ansia di Oriente".
After running through Via Sparano and Corso Vittorio Emanuele, almost seamlessly, we may see Piazza Ferrarese, a real introduction to Bari Vecchia. Lalla Romano perceived it as "una piazza, lunga, ampia, calma". She said: "Mi riesce familiare – a me provinciale – quasi l'avessi davvero attraversata, tanti anni fa, un giorno di passeggiata scolastica, 'in fila'".
The square, which today is one of the spots of Bari nightlife, is named after a merchant from Ferrara, who lived and made his fortune in Bari in the 17th century. It is still possible to see the pavement of the Roman road Via Appia-Traiana, which passed exactly through this part of the town in the past. On the left there is the Sala Murat, which hosts contemporary art exhibitions and, slightly farther, we may see the apsis area of a small church, called Vallisa, dating back to the 11th century. This place, today a diocesan auditorium, was the church of the Ravello and Amalfi merchant communities that were in town in the Middle Ages.
To the right of the square, there is the building that once was the old city fish market.
Piazza Ferrarese has always been the elegant entrance to the old town, which introduces the traveler to its heart, full of surprises, through alleys, passageways, and squares.
Hence, looking for the authenticity of Bari, we may follow the writer:
Penetriamo, per vicoli, nella città vecchia; viva e insieme remota, piena di infanzia.
Una piazzetta irregolare, strana, meravigliosa. Da un lato casucce in vario movimento e colori, un po' come una scena (in terra sono sparsi resti di ortaggi, dopo il mercato), e di fronte la mole austera, semplice, chiara, di un castello di pietra. Castello svevo (o normanno: nomi che fanno sognare). Sulla prima rampa corrono giocando, gridando, bambini. Il Duomo incombe con la sua maestà su un'altra piazzetta paesana, piccola, allegra. (L. Romano, Diario di Grecia)
We have just reached Piazza Federico II, framed by the two architectural and symbolic poles of the town, the Castello Svevo and the Cathedral of San Sabino at a distance, dedicated to the Virgin Hodegetria. We suggest the traveler visit these two town monuments before continuing his/her walk.
Behind the Cathedral, the intricate maze of Bari Vecchia alleys opens, recalling Mid-Eastern towns. Here people live in the extremely white and clean streets, where children play and adults do their daily tasks; improvised shops alternate with stalls, where women make fresh local pasta by hands worn out by experience. We recommend stopping by the alley now known as 'strada delle orecchiette', in Via Arco Basso, where the old town housewives, sitting next to each other on the doorstep, make and wrap up orecchiette, one of the Bari gastronomic delights.
The lively old town alleys attracted Lalla Romano's attention: she was in Bari at Easter and could see the bakers' shop windows full of typical products, as scarcelle and Easter taralli, also called occhi di Santa Lucia.
She writes:
Le strade sono così piccole che noi abbiamo l'impressione di essere giganti; tanto più che esse sono formicolanti di bambini piccoli, i quali ne portano in collo altri piccolissimi.
Qualcuno è incantato davanti a una vetrina; vetrina di panettiere, che espone ovetti per l'imminente Pasqua. Uova col guscio fissate a un disco di pasta che le attraversa. […]
Vi è povertà in queste strade, anzi, miseria; ma è miseria bianca, non nera. Le case sono tutte intonacate di fresco, candide.
Ai crocicchi, tavolinetti espongono mercanzia minuscola, quasi inesistente, uguale a quella con cui si giocava da bambine «a vendere»: boccette, polverine, qualche pizzico di semi. (L. Romano, Diario di Grecia)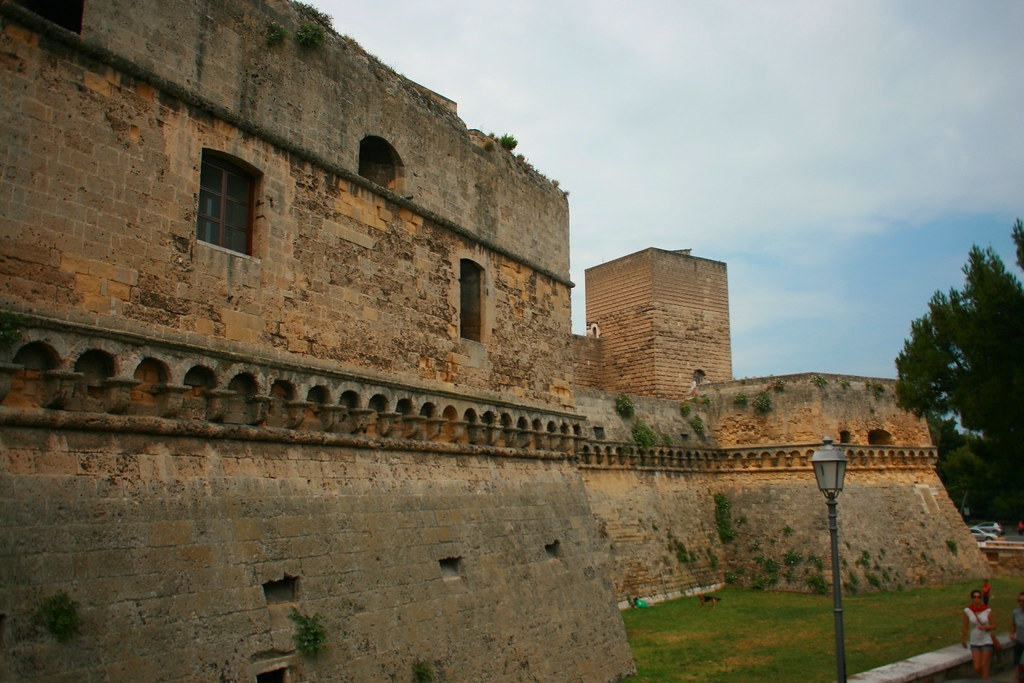 The visit shall end in the most symbolically important place in Bari Vecchia, the square where the imposing and beautiful Romanesque Basilica di San Nicola stands out.
Romano described the meeting with the lively people crowding around the church in these words:
San Nicola, circondato di spazio, è immenso. Fa pensare a un Medioevo luminoso.
Dentro, monaci fraseggiano dal coro. Sopraggiungono anche qui bambini, entrano coi fratellini incollo, li fanno sedere, additano loro i monaci: li portano in chiesa per tenerli buoni.
Fuori, altri bambini corrono, si radunano cheti, ripartono chiassosi. Su un parapetto uno piccolo, di un anno al massimo, già sicuro corre sui piedini nudi e ogni tanto, invece di cadere, fa un piegamento e poggia le palme davanti ai piedi, il culino in aria, nudo. (L. Romano, Diario di Grecia)
For centuries the Basilica that is reflected in the Adriatic Sea was a landmark for sailors, pilgrims and travelers heading towards or coming back from the East, who immediately faced its shape when approaching the port. Lalla Romano perceives the sea that flows through Bari Vecchia, nearly lapping around the basilica foundations, as a prelude to a forthcoming journey. She wrote: "Andiamo a guardare il mare. È celeste e luccica, presagio di favolosi viaggi".
The writer's morning in Bari ends here and the traveler may follow her while she crosses the Murat district again, returning to the station, and stops in front of Laterza bookshop in Via Sparano:
Riattraversiamo la città nuova, così milanese c'è perfino «il Motta».
Lunga la via centrale Stefano mi mostra a dito l'insegna di un negozio. Leggo: G. Laterza e Figli. Dio mio! Come ho potuto scordarmene? Le edizioni Laterza sono state il latte, per noi. Vagheggiate, centellinate nelle biblioteche al tempo dell'adolescenza squattrinata, poi i primi gelosi acquisti: l'Estetica di Croce, la Nascita della tragedia.
Attraversiamo la strada, con la reverenza e la curiosità del caso. La vetrina è piena di Santi. Di statuine della Madonna del sacro Cuore. Dunque tradimento è l'anima del commercio! Ecco una buona signora col suo ragazzetto, vanno ad acquistare da Laterza un catechismo o una Piccola Filotea.
Giriamo l'angolo, e nelle vetrine di là i veri Laterza stanno allineati, distanziati signorilmente, nel sottile rarefatto silenzio del pensiero laico. (L. Romano, Diario di Grecia)
Today the Motta café mentioned by the writer, which was a pre-dinner point of reference for Bari people on Sundays for several years, no longer exists, but it is still possible to enter the historic bookshop and publishing house Laterza in Via Sparano. Laterza enlivened Bari cultural life for over a century, but now the shop windows that excited Romano, grown up reading the books edited by these southern publishers, are reduced and pressed against the sparkling windows of prestigious clothing brands that took over part of its premises.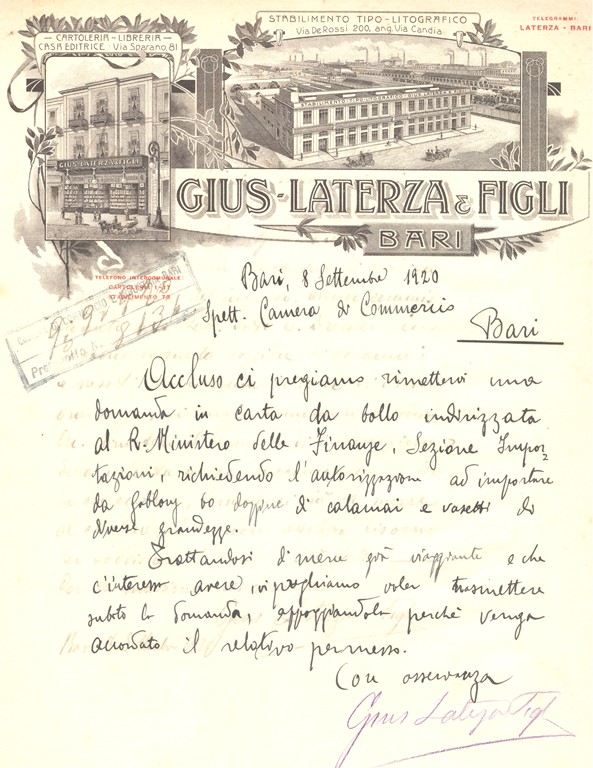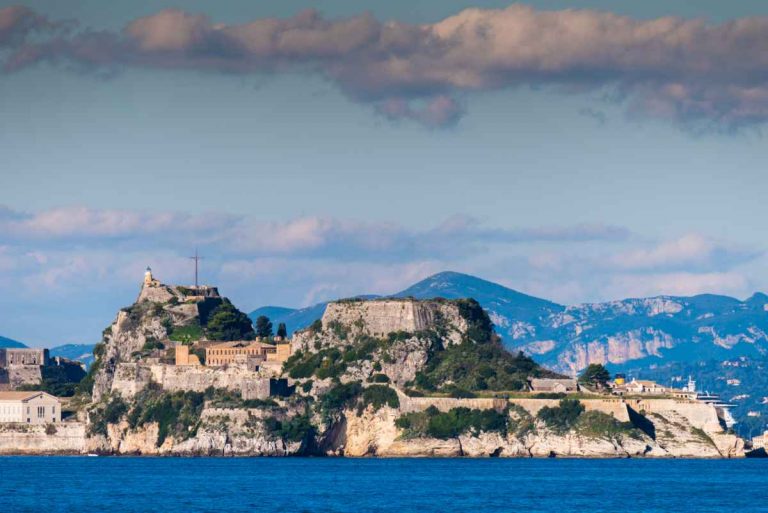 After leaving Bari, the writer will catch a train to Brindisi where she will sail for Greece. Today the traveler may choose to leave directly from Bari port that regularly connects the town with the Ionian Islands.
Now we can enjoy the journey and the view from the cabin to observe Puglia at a distance, which in the eyes of the writer "pare già una memoria", with a sort of "sua malinconia occidentale". She writes:
Il mare, calmo, è esso stesso elemento del silenzio, è uno spazio incorporeo, una eterea pianura che introduce a un viaggio al di là del tempo. […]
Ci stacchiamo dall'Italia.
Un tremito, un trapestio profondo, sussulti: la nave si muove. Ci troviamo nel salone di poppa e le vibrazioni, l'incipiente rullio sono sensibili, eccitanti.
Lo scenario dietro le vetrate si sposta: l'alta città murata, grigio-rosa, scivola all'indietro, s'inclina di sbieco, si allontana.
La nave raggiunge e supera un favoloso castello svevo ormai cupo, notturno, sul mare ancora chiaro, si scioglie dagli abbracci, dai lunghi tentacoli dell'immenso porto e scivola via nel crepuscolo.
A mano a mano che la nave si immerge nella solitudine delle acque e della notte, provo uno sgomento e insieme un'esaltazione: come se avessimo iniziato un viaggio supremo, verso una beatitudine difficile e incorporea. (L. Romano, Diario di Grecia)
The ship landed in Corfu on 18 April 1957 in the morning. The island appeared to the writer in the morning light and her imagination was soon attracted by the Old and New Venetian Fortress, which trace and protect its coasts. She described them as follows:
Si profila una fortezza grigia e verde, a forti spalti, a zone dirupate, erbose: una fortezza antica, in abbandono. Ci devono essere sentieri costeggianti le mura, per le passeggiate domenicali delle famiglie; fossati e cunicoli per i giochi dei ragazzi, prati per le greggi e i loro pastori. Come nella fortezza che Redburn-Melville salutò salpando da New York.
Nel punto dove attracchiamo, abbiamo di faccia un'altra fortezza, meno antica ma non meno solitaria e dormente.
Ventosa, la vasta banchina è chiusa in fondo da un viale di tozzi platani come una piazza di paese. Vicino a riva, bancarelle di paccottiglia: minime anforette rosse e nere, rosari turchi di ambra gialla.
Autobus e jeeps ci porteranno a visitare l'isola. (L. Romano, Diario di Grecia)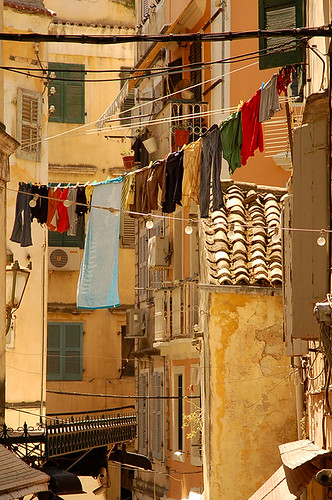 Also Emilio Cecchi, a sophisticated traveler and polished writer, arrived in Corfu in the morning about twenty years earlier, in 1934, and he told about that experience in the first pages of his book Et in Arcadia Ego:
È assai bello arrivare in un'isola ancora addormentata, e con appena qualche pagliuzza di sole in cima ai monti. Così dormiva Corfù. E dal molo appressandoci alle abitazioni, e forse a motivo di quelle persiane abbassate alle finestre sulla marina, si aveva un senso come a giungere di sorpresa, clandestinamente. […]
Nelle stradette era il silenzio della città che ha fatto tardi la notte fumando e chiacchierando; un odorino di cicche che macerassero nella guazza: lo stesso umido tanfo che all'alba si sente nei caffè appena aperti […]. Deserto era anche lo spiazzo del mercato, con intorno sbilenche baraccucce d'aspetto balneario. Soltanto usciti dall'abitato, e inoltrandoci velocemente nella campagna, si incominciò ad incontrare qualcuno: contadini sul loro asinello, donne che con una corda si tiravano dietro la capra; e accosto ad ogni casa colonica, legato al piuolo, un giovenco, come un monumento votivo.
E più s'andava avanti, più le ragazze e le donne diventavano belle. […]
Erano, queste, mistiche immagini bizantine: le immagini più bizantine che abbia mai veduto fuor che nei musei e nei mosaici. Pallidi i volti, incorniciati di panni neri, gli occhi stellanti, trapunte le vesti composte a pieghe ed angoli simmetrici. E in quell'avvallamento verde e senza sole, sotto la cupola del cielo bianchiccio, stavano con una grazia maestosa ed inutile di pitture bizantine mezzo scancellate. […] (E. Cecchi, Viaggio in Grecia. Et in Arcadia ego.)
We suggest the traveler follow the writer, who is leaving Corfu town center to head for Gastouri village, where Achilleion lies, "la villa della povera Elisabetta d'Austria, poi di Guglielmo II, oggi passata al governo greco".
The name of this monument, as well as the name "Corfu", reminds Lalla Romano literary and especially Romantic echoes. The writer recalls:
Corfù. Da bambina mi piaceva ripetere questo nome; e il verso del Pascoli:
nel solingo Achilleo di Corfù
Inutile, adesso, ridurlo a quello che è; per me è ancora bello: pieno di silenzio, e di una lontana musica settecentesca. Ignoravo cosa fosse l'Achilleion, e quando seppi che era stato il rifugio di una regina infelice, il fatto non mi disturbò, ma non aggiunse nulla all'incanto di quel nome. (L. Romano, Diario di Grecia)
With a more disillusioned and sometimes discrediting look, Emilio Cecchi leads us inside this palace with its ostentatiously neoclassical style. Famous for being Empress Sisi's beloved residence, is still one of the main tourist attraction in the island. Cecchi writes:
Avete voglia a combinare esposizioni retrospettive di vita e costume dell'Ottocento, mettendoci ogni finezza di satira archeologica! Per fare un Achilleion occorsero niente meno che i sedimenti di due Imperi. Il cattivo gusto, la tristezza di due Imperi. A mezza costa. Fra palmette, bambù e viti americane, il prodotto di questa grandiosa collaborazione sta, sbreccato e spaesato, come il relitto di un mondo assolutamente estraneo, come un enorme polipaio lasciato in secco dal mare.
Lievemente, dinanzi alla villa, il giardino discende fino a una terrazza semicircolare, protesa sul panorama con l'aria di un ponte di comando d'una nave ammiraglia. […]
Fra le aiuole, un nudo di Frine, dozzinali frammenti di scavo, bassorilievi di donne scarmigliate e ploranti che vorrebbero sembrar greche, ma il liberty si sente lontano un miglio. Per vialetti e pergole inselvatichiti, s'arriva al ponte di comando, sul quale pavoneggia un altissimo Achille di marmo grigio, stile Thorwaldsen. […]
Presso la villa, altra scultura bavarese del Pelìde, ma questa volta moribondo, e intorno disseminati marmi e bronzi d'Amori, Muse e Lottatori: il più trito repertorio ellenistico che va a gran tiratura sulle cartoline illustrate. (E. Cecchi, Viaggio in Grecia. Et in Arcadia ego.)
We may continue our visit inside Achilleion together with Cecchi:
[…] Finalmente s'entra. C'è di tutto. Divani rococò. Stipi moreschi, intarsiati d'ebano e madreperla. E in bella cornice, scialbe istantanee eseguite dall'imperatore. […]
Quanto ad Elisabetta [Elisabetta II d'Austria, l'imperatrice Sissi], vestigia del suo gusto personale sono nella cappella a pianterreno. E la cappella sembrerebbe quasi romanica, se il catino dietro l'altare non portasse un affresco floreale, se alle pareti non fossero murate riproduzioni di terracotte della Robbia, e i candelieri di ottone e varia suppellettile non provenissero dalle lontananze d'ancor altre civiltà: nel complesso, un bazar triste e meticoloso. […]
Sulle brezze ioniche, Elisabetta ascoltava echi della canzone di Heine. Ma Guglielmo, rimirando Achille, pensava che con pochi ritocchi si poteva benissimo presentarlo come Sigfrido. Böcklin ebbe la prima, primissima idea dell'Isola dei Morti. (E. Cecchi, Viaggio in Grecia. Et in Arcadia ego.)
The writer is ironical about the fictitious and unproven identification of Pontikonisi island with the subject of the painting by the Symbolist artist Böcklin. This place, definitely evocative, is just a high cliff overlooking the sea, surrounded with a small cypress wood, which can be accessed by boat from the port where the Vlacherna Monastery rises. Here Lalla Romano arrived and our itinerary stops off.
From a distance, the white monastery as well seems to the writer an island surrounded by the sea:
Un mare liscio come un lago, e come un lago cinto di colli ondulati vicini e lontani, in una luce specchiante di miraggio, nel sentore amarognolo della primavera. Nel mare due piccole isole, sorprendenti: una bianca e una nera. Quella bianca – bianchissima, di calce – è un convento, ha un campanilino piatto e due campane; è unita alla terra da un pontile di sassi. L'altra, un po' più indietro, nero-azzurra di cipressi e di pini. Quale sia la più misteriosa, non so.
[…] Il sentiero mi par familiare, uguale a quelli che scendono su Punta Chiappa di Camogli. Ora si vede che oltre al breve pontile dell'isola bianca, a destra corre un lungo molo o gettata di cemento che raggiunge l'altra riva e racchiude così un'ampia laguna.
Mentre trottiamo sul sottile cammino a fior d'acqua verso il convento bizantino, vediamo sfilare lentamente sul molo a lato un asinello col suo basto, e sopra un bambino; dietro ad esso un uomo che si appoggia a un bastone. La povertà e gentilezza «umbra» di quelle figure fa sembrare preziosa la pace del bianco convento.
Quando si entra è diverso. Nell'intimità questa pace è vera. La chiesa, piccola, nera dentro, è per me montanara col suo pavimento di legno, coi suoi ex voto vecchi e naïfs. I quadri sono icone.
Usciamo. Il mare fa specchio. Qui veniva a pregare la regna infelice dell'Achilleion. (L. Romano, Diario di Grecia)
Lalla Romano moves from the small white Orthodox monastery where Empress Sisi prayed to Pontikonisi small island, which, according to ancient legend, besides inspiring Böcklin's painting – the subject of Cecchi's irony – was just the Phaeacians' ship Neptune turned into stone to punish them for helping Odysseus. The writer expresses the emotions and memories evoked by this place in these words:
L'isola nero-boscosa è vicina, pare debba mettersi a navigare, come una nave mimetizzata. È il contrappasso del mito, perché quell'isola è la nave dei Feaci. Mentre risaliamo il sentiero «ligure», incantevoli bambini ci porgono rametti fioriti che odorano fresco, dolce. Bambini scalzi, muti e sorridenti come i nostri di montagna quando sono davanti a forestieri. Sono insistenti come ospiti, non come mendicanti. Non chiedono infatti, offrono. Distribuiamo soldini, soldini greci, fin che ce n'è. Quando non ne abbiamo più ci mettono lo stesso in mano i rametti. (L. Romano, Diario di Grecia)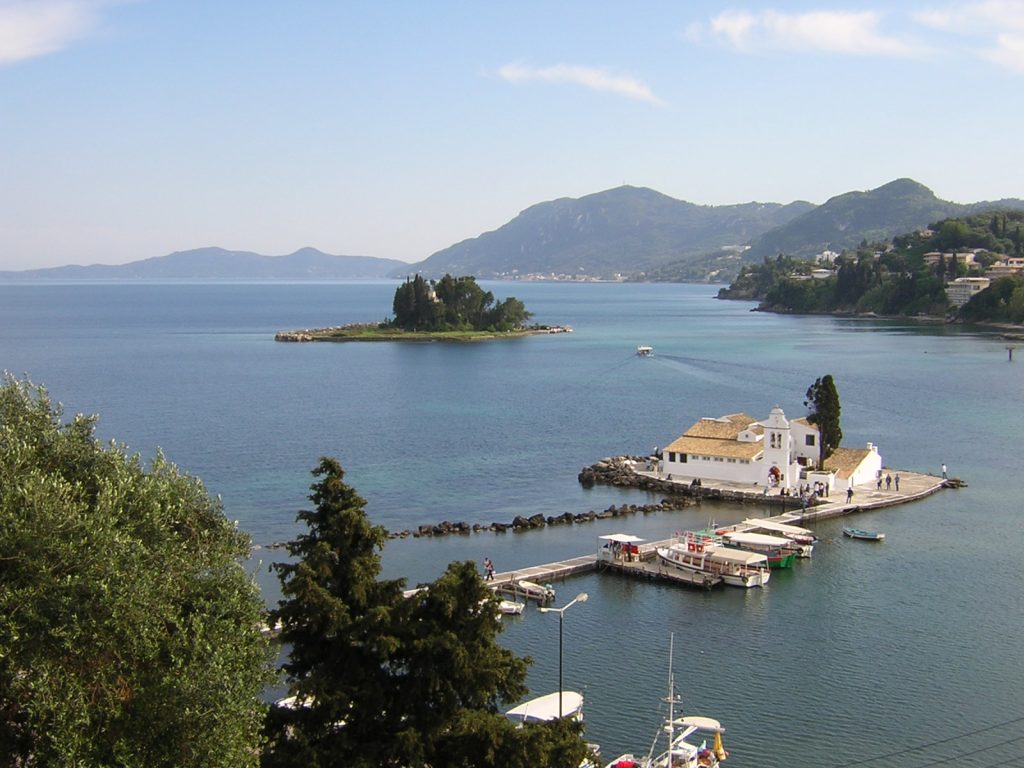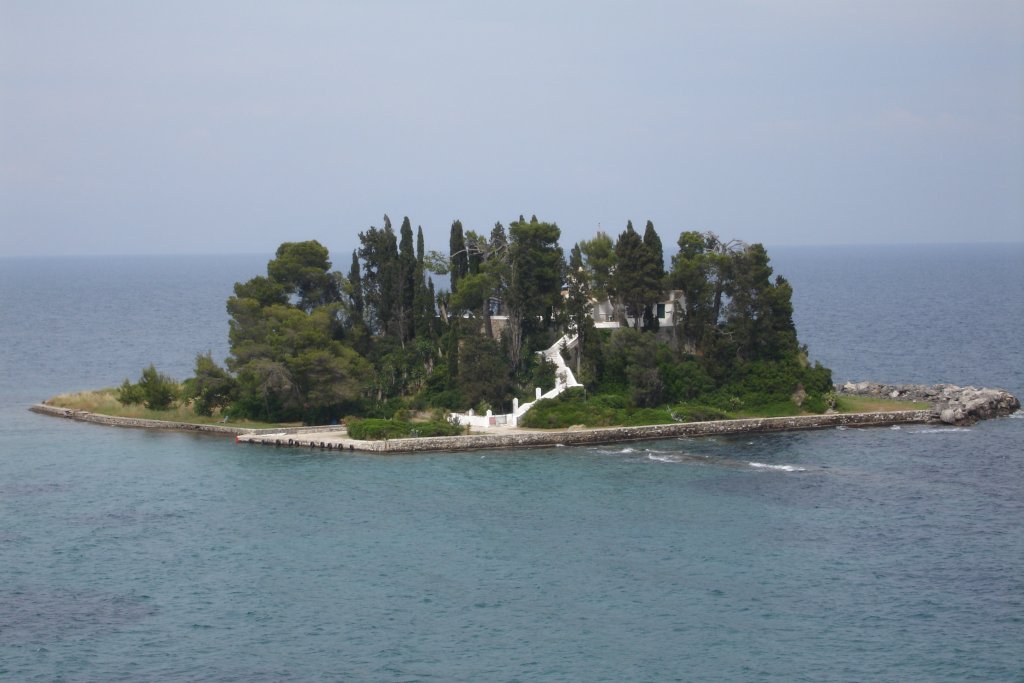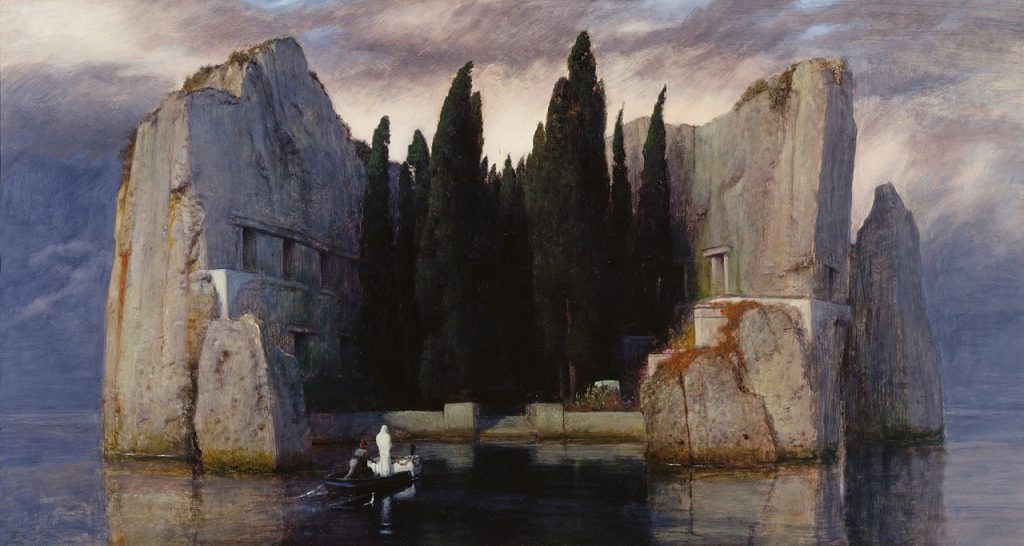 Together with our literary guides, we may continue our itinerary through Corfu, where the Venetian elegance that connotes architecture and streets harmoniously combines with the Mediterranean East fascination that characterizes orthodox churches and local people habits and customs. Lalla Romano writes:
[…] attraversiamo a piedi la città. Non so se sia veneziana come dicono, certo è occidentale, genovese direi, con le sue case alte, bianche e rosa.
[…] guardo le bottegucce. Si piomba nella più remota infanzia, per chi l'ebbe paesana come me. Bottegucce povere, polverose, buie; per entrare si salgono – o scendono – scalini. Odore di carrube, di canfora; vi si vendono ceri, cartoline, ogni cosa. (L. Romano, Diario di Grecia)
There are places and moments in Corfu that allow you to completely immerse yourself in the harmonious union between Italian, Western, and Latin style and Orthodox culture that connotes the town, as when – for example – a baptism is celebrated in the beautiful Saint Spyridon Church. Emilio Cecchi had the opportunity to witness it and offers the traveler a vivid description, so as he/she can enjoy the atmosphere as well. Let's enter the church with the writer:
[…] nella chiesa ortodossa di San Spiridione, genti accorrevano vociferando, quasi ci fosse, che so, un tentativo rivoluzionario. Scontrandosi come le formiche, si davano attorno con gialli candelini accesi. Ma poiché nessuno accennava a manomettere le lampade d'oro e d'argento a modello di barca, e d'argento anch'esso il sepolcro del santo, faceva presto a chiarirsi che, nonostante le stride, forse non stava succedendo niente di male.
Era infatti un battesimo. E la ressa e l'entusiasmo dei parenti fino al settimo grado; […] cantando le preci, il prete cercava di soperchiar quegli strilli; ma intanto gli si scioglievano, sulla nuca e le orecchie, crollando sotto la stola, grosse pesanti trecce brune, vere trecce da donna, da donna anzianotta; che a noi, non abituati, vedendole in testa ad uomini, fanno un effetto un po' discostante. A leggerne negli storici, è così poetica la vita nella chiesa cristiana, i primi decenni dalla vita di Gesù. […] Eppoi , guardandoli meglio, si vede che sono della stessa pasta della gentuccia che popola certe pagine di Aristofane, di Teocrito; ma diventati più gravi, pudichi, eroi. Il senso di questo greco cristianesimo, casalingo, primordiale, è fra le più delicate e commoventi intuizioni che subito s'incontrano dall'altra parte dello Ionio. […]
Dalle pareti di San Spiridione, dorate pitture venezianeggianti (con i fortilizi, i marmi, la lingua, fra le tante nostre testimonianze su queste rive) guardano quella agitazione, quella dolorosa vivacità di stirpi urtate, confuse, consunte, quel disordine che in Corfù già sente di turchesco e carovaniero: guardavano con la serena dignità dell'occhio latino. (E. Cecchi, Viaggio in Grecia. Et in Arcadia ego)
Let's leave Emilio Cecchi, Saint Spyridon and Corfu, and proceed with our itinerary sailing for Ithaca, together with Lalla Romano.
The crossing to the most Homeric island will offer the traveler incredibly beautiful Mediterranean landscapes, to which the writer could not remain indifferent. She recalls:
Scivoliamo tra isole bianche e petrose, nel sole. Danno un'impressione quasi cruda di nudità.
Forse consiste, l'essere isole, in quella leggerezza di uccello appena posato, e in quell'irremovibilità, insieme, di statue che si debbono aggirare. Appaiono con nostro stupore; con nostro rimpianto dileguano. […] Stiamo costeggiando Itaca, ci dirigiamo verso un porto. Le rive sono vicine. Aspre, montuose, carsiche. Poco sopra l'orlo del mare corre un sentiero che sembra però naturale, non tracciato dall'uomo. Silenzio e deserto. Luce pomeridiana, un poco più calda ma non meno chiara della mattinale. La terra che traspare tra la pietra bianca, è rossa. Lo strano sentiero non è mai stato calpestato, o chissà? (L. Romano, Diario di Grecia)
The arrival at Ithaca aroused in the writer the same emotions that today many travelers feel when they get to this hilly island, where finally Odysseus landed after long vicissitudes and many adventures, as told in the Odyssey. Romano perceives Ithaca as something more than an Ionian Island: not only is it the Homeric hero's homeland, but to some extent it is the island of every traveler, "è la patria, la casa di tutti", where we may identify the heart of our civilization and culture. Lalla Romano wrote:
Itaca. Commuove che sia davvero petrosa. Del resto, prima è stata un'isola come le altre, un'isola senza nome; e dopo, la patria di Ulisse. Anzi, la patria, la casa di tutti noi. Non più Itaca di un'altra, dunque. (L. Romano, Diario di Grecia)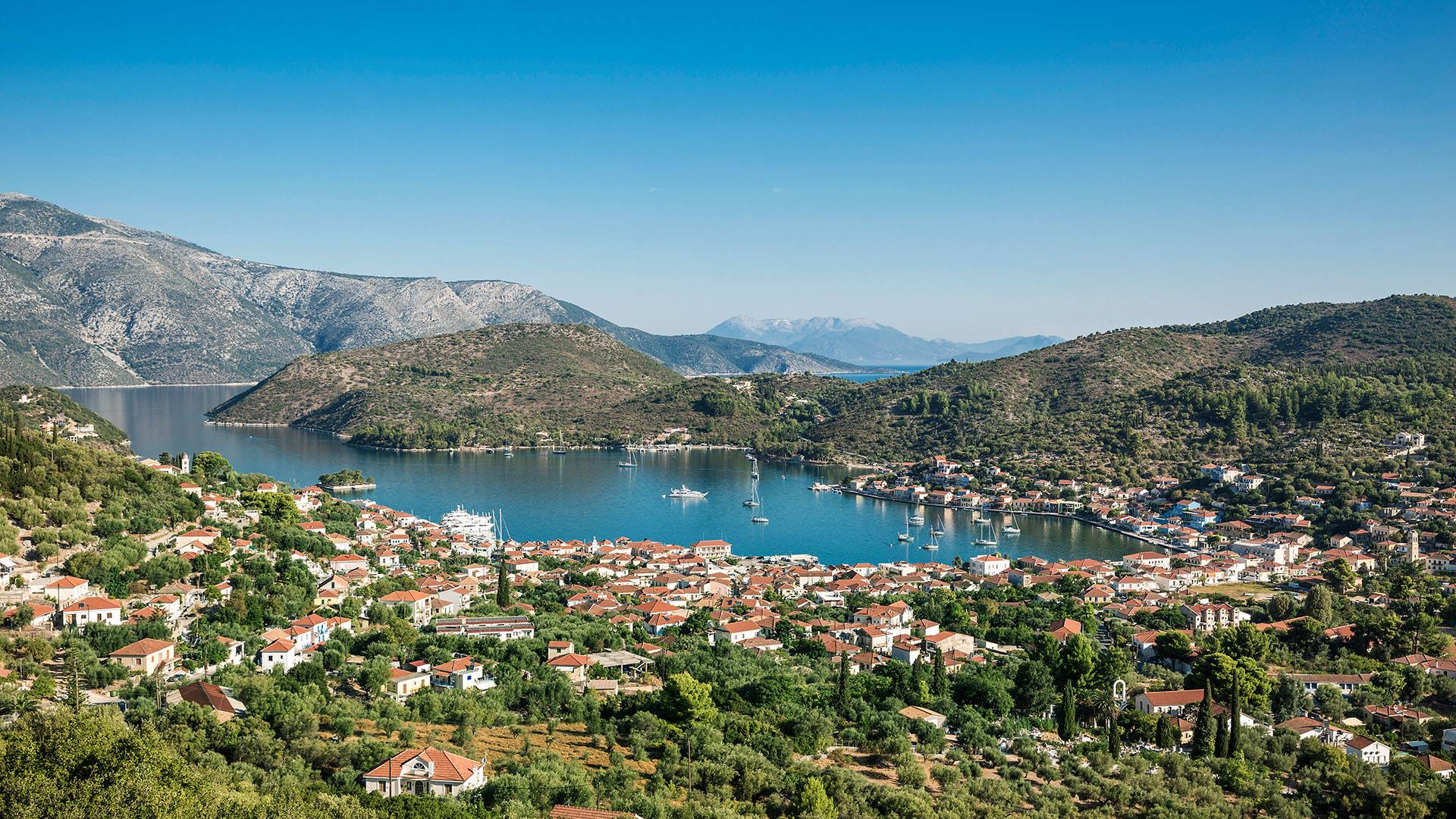 The writer starts to ask her guide some information on the places mentioned in the Odyssey:
Il Mitropulos [Mitropulos è il nome fittizio della guida greca di Lalla Romano], interrogato se la città che vediamo sia nel posto di quella di Ulisse, dice che no, che la baia di Ulisse era un'altra e indica una valletta profonda, in ombra e boschiva. – Là, – dice era l'approdo di Ulisse –. Stiamo già passando oltre, ma ho veduto – o sognato di vedere? – un filo di fumo, azzurrino. Eppure la valletta appariva disabitata. Lo straordinario del resto è che esista, intravveduta in qualche parte quaggiù. (L. Romano, Diario di Grecia)
Various hiking trails still lead to true or assumed places connected to Homeric tradition. These paths are not always easy to follow and, ironically, looking for them may become an epic adventure, as for the long distances to be covered mostly on foot and the poor road signs as well. They are clearly legendary sites, on which archaeologists have held opposing views. Aware of this, we suggest the traveler, once arrived in the island par excellence, visit the Fountain of Arethusa. This natural spring, ten kilometers from Vathy – the main center of Ithaca – is the site where in Homer's narration Eumaeus, Odysseus' swineherd, took his pigs to drink and met the hero, just landed in the island.
Near Stavròs village in the northern part of the island, among hills covered with olive trees and vines, there are a small archaeological museum and the remains of a palace with Cyclopean walls, today identified with the possible Odysseus' palace. It is the same palace that the archeologist Heinrich Schliemann, who brought to light Troy's ruins guided by Homer's poems, had previously located near Alalkomenés, close to Mount Aetos.
In addition to these sites connoted by mythological and literary charm, Ithaca offers the traveler further attractions: very beautiful natural bays and beaches, the port town of Vathy – the island's main center – and other small villages, nestled in the hills. Romano wrote:
[…] nella rada ben chiusa dalle colline la nuova Itaca bianca, rosa, piccolo borgo sul mare.
Dopo, guarderò uomini e case. Ora guardo le colline in cerchio. Piene di forza e povere. Dolci. Dolci nelle linee ferme e calme, prive di ogni vaghezza di alberi o prati o coltivi. Qualche albero c'è, a piccoli gruppi, radi, due o tre, anch'essi di natura aspra, non sognante. Non è dolcezza. È ritmo, severo. È un senso, concluso, di unità. (L. Romano, Diario di Grecia)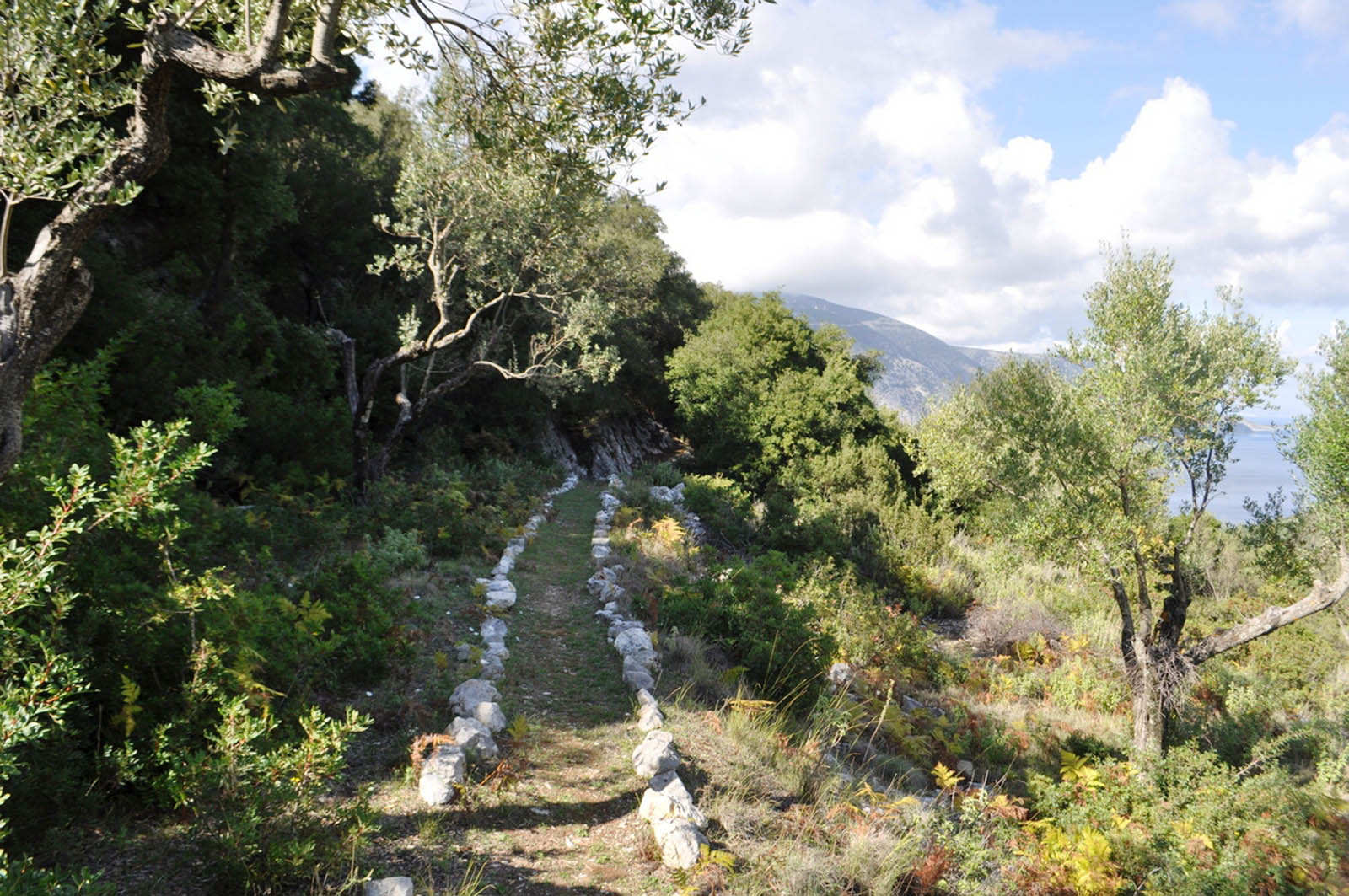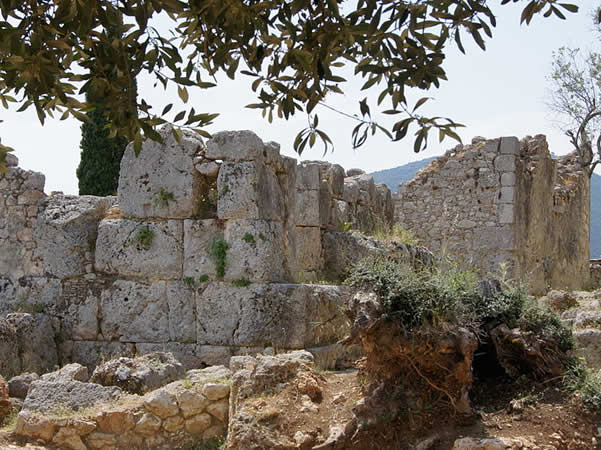 We suggest the traveler get lost in the villages and hills that excited Lalla Romano. The old capital of Ithaca is certainly worth visiting; it is located 500 meters in height and about fourteen kilometers from Vathy. Here it is possible to admire the ancient church of Panagia with its valuable Byzantine frescoes. Our itinerary ends in this place and we should leave the island at dusk as Lalla Romano did saying goodbye to Ithaca in these words:
Partiamo verso sera. L'isola è più misteriosa, più solitaria. […]
Non c'è spiaggia né scogliera, il mare lambisce la roccia carsica, come se avesse sommerso una valle. Ciò dà l'impressione di un evento recente, in quest'aria senza tempo.
E del resto, perché questo luogo è antico? Immemoriale è la storia dei monti e dei mari, e questo mare non è più antico di un altro.
Ma questa è la Grecia: vale a dire siamo noi, uomini, antichi. (L. Romano, Diario di Grecia)
It is time we took our leave of the traveler and the island sharing the Greek poet Kostantinos Kavafis' wishes:
[…] Sempre devi avere in mente Itaca –
raggiungerla sia il pensiero costante.
Soprattutto, non affrettare il viaggio;
fa che duri a lungo, per anni, e che da vecchio
metta piede sull'isola, tu, ricco
dei tesori accumulati per strada
senza aspettarti ricchezze da Itaca.
Itaca ti ha dato il bel viaggio,
senza di lei mai ti saresti messo
in viaggio: che cos'altro ti aspetti?
E se la trovi povera, non per questo Itaca ti avrà deluso.
Fatto ormai savio, con tutta la tua esperienza addosso
già tu avrai capito ciò che Itaca vuole significare.
(K. Kavafis, Itaca)