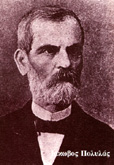 Autore: Polylas, Jakovos Polylas
Data di nascita: 1825, Corfù
Genere: Maschile
Biografia: Jakovos Polylas è nato a Corfù nel 1825, figlio del laywer e studioso George Polylas ed Helen, figlio di Nicholas Voulgaris. Jakovos Polylas proveniva da un'importante famiglia di Corfù, ma le sue origini risalgono a Konstantinopolis. Sua madre fu educata e gli insegnò le prime lettere, così come le lingue straniere (inglese, francese, italiano, tedesco) e il greco antico. Importante per il corso di Jakovos Polylas è stata la lunga relazione di Dionysios Solomos con la sua famiglia. Polylas nel 1847 sposò di nobile origine, Emilia Sordina. A causa della cattiva salute di sua moglie Polylas fu costretto a partire per Napoli con lei nel 1852 e vi rimase fino al 1854. Lì iniziò la sua carriera nella letteratura. Nel 1857 Emilia morì all'età di ventinove anni e Polylas tornò a Corfù. Lo stesso anno fu segnato dalla morte di Dionysios Solomos e Polylas fece un discorso funebre al suo funerale. Dal 1857 al 1862 lavorò a Corfù come guardiano della biblioteca pubblica. Nel 1860 fu eletto segretario della Ionian Society of Philology. Allo stesso tempo, ha svolto un ruolo attivo nei processi politici per l'Unione delle Isole Ionie con lo stato greco. Ha fondato il club politico Anagennisi e pubblicato l'omonimo giornale, sottolineando la necessità dell'Unione e dopo la sua realizzazione la completa assimilazione amministrativa delle Isole Ionie nel regno greco. Nel 1871 fondò il club politico e il giornale Rigas Feraios e poi il satirico Kodon. Ha combattuto ferocemente per l'unificazione delle Isole Ionie con la Grecia pubblicando una serie di articoli contro la xenocrazia e movimenti fraudolenti stranieri. Dopo l'unificazione delle Isole Ionie con la Grecia, si occupò di politica e fu spesso eletto deputato. Ma il suo coinvolgimento nella politica non toglie nulla alle sue ricerche letterarie, che erano varie, come la poesia, la prosa, le traduzioni (traduce The Tempest, Hamlet di Shakespeare, Homer-Odyssey e Iliada), scrisse quattro poesie, tre testi, critici studi, articoli vari. Nel 1859, due anni dopo la morte di Dionysios Solomos, compilò un volume The Findings of the Poet (Ta Euriskomena). Jakovos Polylas morì nel 1896 a Corfù.
---
---
Letteratura selezionata
Poesie
Testi
---
Cronologia delle Jakovos Polylas
1825

Birth of Jakovos Polylas in Corfu.

1847

Marriage of noble origin Emilia Sordina.

1852-1854

Departure and stay in Naples with his wife.

1855

His first appearance in literature with the publication of his translation of Shakespeare's play The Tempest.

1857

Death of Emilia Sordina.

1857-1862

During this time he worked in Corfu as a public library guardian.

1859

In 1859, two years after Solomon's death, he compiled a volume The Findings of the Poet.

1860

He was elected secretary of the Ionian Society of Philology.

1871

He founded the political association and the newspaper Rigas Feraios and then satirical Kodon.

1869-1879

During this period he was a member of Corfu in the government of Charilaou Trikoupis.

ως το 1890

After disputes with Charilaos Trikoupis, Polylas joined Deligiannis' party until 1890.

1891

He published the text A small mistake in Estia.

https://www.youtube.com/watch?v=iutk5EWEnzw

ERT Archive Monday's play "A small Mistake" on the story of Jakovos Polylas.

1892

He published the texts The Forgiveness & Ta tria floria.

1896

Death of Iakovos Polylas in Corfu.