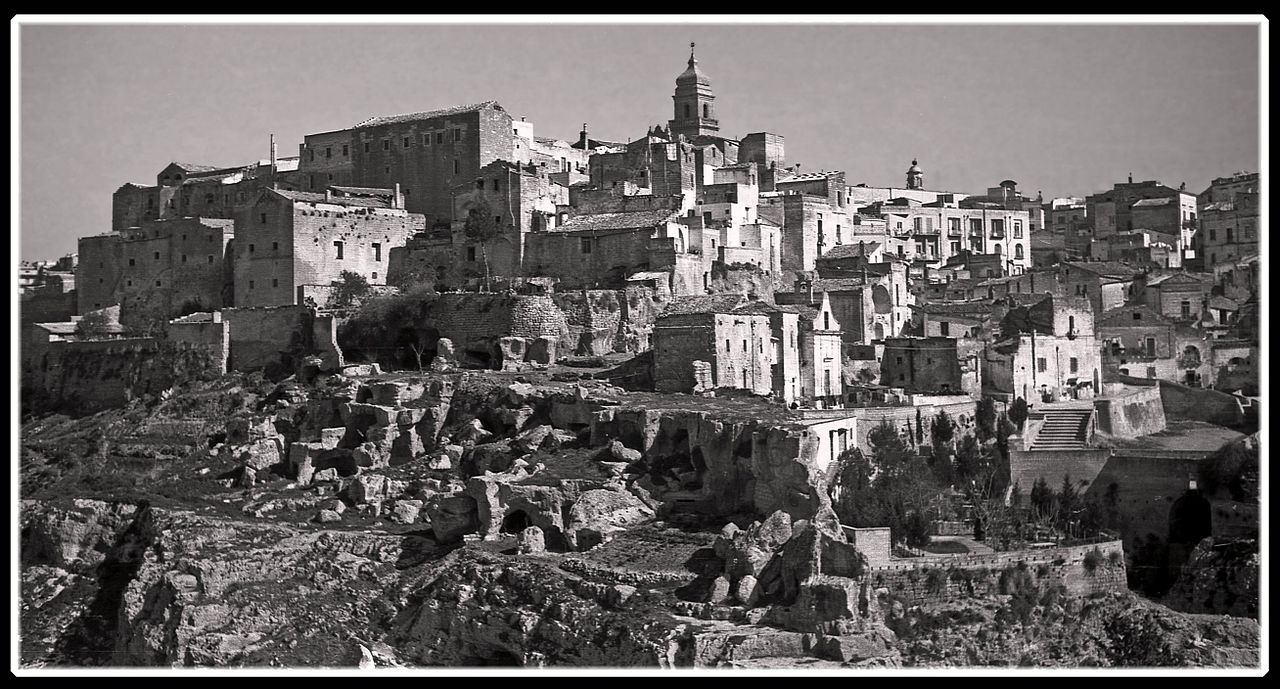 Gravina di Puglia
Old photo (CC BY-SA 3.0, https://it.wikipedia.org/w/index.php?curid=3694887)
Gravina di Puglia
old photo (CC BY-SA 3.0, https://it.wikipedia.org/w/index.php?curid=3694887)
The name of the city in the Alta Murgia already anticipates the peculiarities of its landscape conformation. The whole country stands on a deep grave.
Over the centuries, the natural caves and artificial cavities between these rocky walls have been used as dwellings, stables, shelters, and places of worship. Among the many rock churches, the Basilica of San Michele delle Grotte is definitely worth a visit: it is an environment divided into five naves with wide pillars. The remains of frescoes from the 12th-13th century are still visible. In one of the rooms attached to the church it is possible to visit an ossuary, a macabre deposit of human remains, which according to a tenacious popular tradition is said to contain bones of the citizens of Gravina who had been massacred during one of the Saracen raids in the tenth century.
Inside the little-known and yet rich Pomarici-Santomasi Museum in Gravina visitors can admire the punctual reconstruction of the environments of the crypt of San Vito together with its beautiful medieval frescoes; among them we point out the Christ Pantocrator Enthroned and the Virgin Enthroned. The museum is located in the seventeenth-century building of the Pomarici Santomasi Foundation. Its two floors also house the Pinacoteca, the archaeological finds from the Botromagno area, the Library, the Historical Archive and the reading rooms.
Telephone: +39 080.325.10.21
Fax: +39 080.325.10.21
E-Mail: info@fondazionesantomasi.it
Via Museo n. 20 – 70024 Gravina in Puglia (Ba) – Italy
Opening hours
Tue./Sun.: 9.00-13.00 | 16.00-20.00
Monday closed