The elegant town rises on a gentle hill of southern Murgia and overlooks the Itria Valley. The traveler will be soon amazed by its Baroque and Rococo appearance, less abundant than Lecce style but with simple and elegant shapes.
The town origins date back to the 10th century, when some refugees from Taranto escaping from the Saracens took refuge on Monte San Martino and established the first village there.
In the 14th century, this original settlement was enlarged at the behest of Philip I, Prince of Taranto, who guaranteed exemptions and rights to those who would have decided to settle down. That is the origin of the name Martina Franca.
The town center is accessed through Piazza XX Settembre, where a monumental 18th-century arch rises, decorated with an equestrian statue of Saint Martin, in memory of the legend that tells how this holy knight freed the city from Maramaldo's troop attack. Once you cross the arch, you enter the old town. Here it is possible to admire the beautiful Palazzo Ducale, built in the Baroque style at the end of 17th century at the behest of the noble family Caracciolo.
Going into the old town streets, you may reach the collegiate Church of San Martino, a spectacular Baroque church, built between 1747 and 1775 and located in Corso Vittorio Emanuele, a street lined with elegant buildings that have windows and carved balconies. The church façade is richly decorated and embellished with a large portal topped with a sculptural group that portrays the scene of Saint Martin and the poor in line with the theatrical and scenic 18th-century style.
The interior has a Latin cross and a single-nave plan, and it is abundantly decorated: stuccoes, marble and precious materials contribute to make this church a Baroque jewel in Puglia.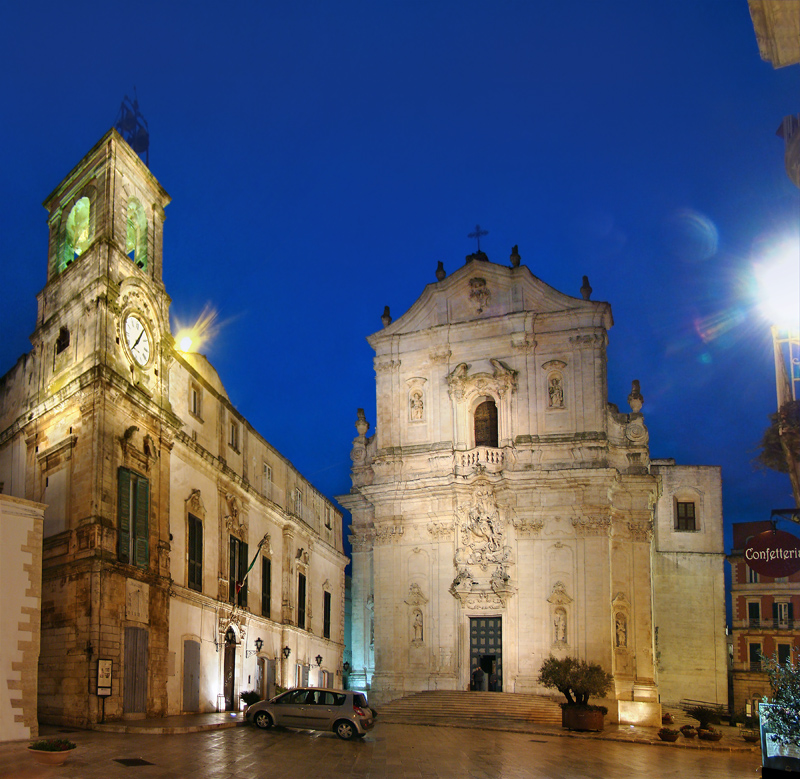 Martina Franca, Piazza Plebiscito (photograph by Tango7174 – Own work, CC BY-SA 4.0, https://commons.wikimedia.org/w/index.php?curid=13754146)